Board of Directors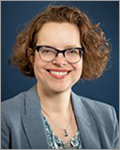 Nancy Kennedy
Chief Lottery and Customer Officer
Ontario Lottery and Gaming Corporation
[Appointed October 2014]
Nancy Kennedy is the Chief Lottery and Customer Officer at the Ontario Lottery and Gaming Corporation (OLG), where she is responsible for driving value and growth within OLG's Lottery business, has oversight of the company's enterprise Customer Experience function, and leads OLG's Enterprise Strategy function which supports all areas of the organization.
Prior to joining OLG, Nancy served as the Deputy Minister of Treasury Board Secretariat and as Associate Deputy Minister in the Office of the Regulatory Policy and Agency Relations at the Ministry of Finance.
Nancy has two decades of senior public policy and regulatory experience leading a number of high profile projects, including work with OLG, the Liquor Control Board of Ontario, the Ontario Cannabis Store and Metrolinx.
She has also held senior positions in the Ministry of Health and Long-Term Care and Cabinet Office, leading strategy and a number of high profile policy projects.
Back to Board of Directors chart.