Debt Management
Debt and Liabilities
The Corporation inherited $38.1 billion in total debt and other liabilities from the former Ontario Hydro when the Ontario electricity sector was restructured on April 1, 1999. This amount included $30.5 billion in total debt.
A portion of the $38.1 billion was supported by the value of the assets of Ontario Hydro successor companies, leaving $20.9 billion of stranded debt not supported by those assets. As at April 1, 1999, the present value of future payments-in-lieu of taxes and electricity sector dedicated income was estimated at $13.1 billion. Subtracting the $13.1 billion from stranded debt of $20.9 billion resulted in a difference of $7.8 billion, the initial estimated residual stranded debt.
(On May 15, 2012, the government filed a regulation under the Electricity Act, 1998, to provide transparency and meet reporting requirements on the outstanding amount of residual stranded debt. For further details on the regulation, please visit the Government of Ontario website.)
The initial unfunded liability of $19.4 billion was the stranded debt adjusted for $1.5 billion of additional assets
As at March 31, 2011, total debt and liabilities were $29.3 billion, with total debt of $27.1 billion. These figures compare to total debt and liabilities of $29.9 billion, with total debt of $27.4 billion, as at March 31, 2010.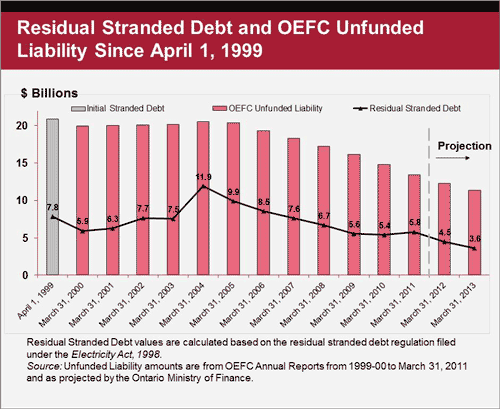 The unfunded liability was $13.4 billion as at March 31, 2011, a decrease of $1.4 billion from March 31, 2010. This is the seventh consecutive annual decline in the unfunded liability, $6.0 billion below the $19.4 billion level as at April 1, 1999.
The Electricity Act, 1998, provides for the Debt Retirement Charge (DRC) to be paid by consumers until the stranded debt is defeased.
Defeasance of stranded debt is projected to occur when the value of OEFC's remaining debt and other liabilities is fully offset by the value of its assets such as notes receivable from the Province, OPG, IESO and NUGs; electricity sector dedicated income; and the estimated present value of future payments-in-lieu of taxes.
The debt repayment plan estimates stranded debt will likely be defeased between 2015 and 2018, and the DRC is expected to end after defeasance and will no longer be charged on consumers' bills.
Debt Repayment Plan
OEFC services and retires the debt and other liabilities of the former Ontario Hydro from the following revenue and cash flow sources in the electricity sector:
Outstanding notes receivable from the Province, OPG and the IESO

Payments-in-lieu of corporate income, capital and property taxes, made by OPG, Hydro One and municipal electric utilities

DRC paid by electricity consumers

Electricity sector dedicated income — the Province's combined cumulative net income from OPG and Hydro One in excess of the Province's interest cost of its investment in these subsidiaries.
Risk Management
OEFC's risk management policies and procedures are designed to manage risk exposures associated with the Corporation's debt, derivatives and related capital market transactions.
Foreign exchange and net interest rate resetting exposures remained within policy limits in 2010–11.
The table below represents the framework and policy limits employed to ensure market, credit and liquidity risks are managed in a sound and cost-effective manner.
| | Risk | Status |
| --- | --- | --- |
| Foreign Exchange Exposure | OEFC's exposure to unhedged foreign currencies is limited to 5 per cent of outstanding debt. | Foreign exchange rate exposure was 0.00 per cent of outstanding debt as of June 30, 2011. |
| Net Interest Rate Exposure | The exposure of OEFC to changes in interest rates is 35 per cent of outstanding debt (net of liquid reserves). | Net interest rate resetting exposure was 11.79 per cent of outstanding debt as of June 30, 2011. |
| Credit Risk | The minimum credit rating of a counterparty for a new swap transaction is AA- and R1-mid for money market investments. | Exclusive of contracts with the Province, OEFC had no positive net exposure with any of its counterparties at June 30, 2011. |